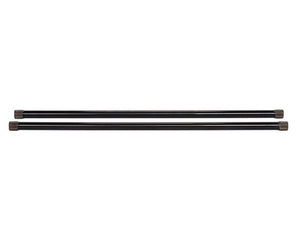 DESCRIPTION
Ironman Torsion Bars are thicker than standard torsion bars fitted as original equipment. Original equipment torsion bars are designed to carry the weight of the vehicle as designed by their manufacturer. The adjustment incorporated in torsion bar vehicles is not intended to be used to compensate for carrying additional load. Additional 4x4 accessories such as a bull bar, winches and dual battery kit places enormous stress on standard torsion bars. Being uprated (thicker spring steel) Ironman torsion bars enhance ride comfort by controlling suspension travel whether carrying additional accessories or a full load of passengers. Ironman torsion bars will make your 4x4 safer while providing more comfortable cornering and braking efficiency. All Ironman torsion bars have upset forged ends and are pre set to minimise sag.
---
SPECIFICATIONS
Quantity Required: 1
Package Details: Pair
Additional Notes: Vehicles with independent suspension must maintain a minimum of 60mm downward suspension travel.

---