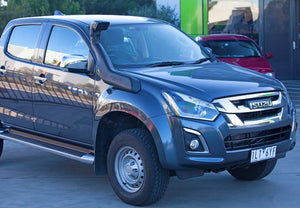 Isuzu D-Max 2017+ Snorkel
DESCRIPTION
4WD's fitted with Ironman 4x4 Snorkels benefit from increased airflow to the engine and a raised air intake to minimise the chances of water ingress.
Designed and engineered in Australia, specifically designed for the 6/2012+ Isuzu D-Max 3.0L Turbo Diesel variants. The ideal safeguard against water and dust into the engine when traveling throughout Australia.

Featuring a high flow 3.5" air intake engineered to ensure optimal efficiency and cleaner airflow into the engine. The higher air intake minimises the risk of water damage through water crossings.



---
SPECIFICATIONS
Quantity Required: 1

---
FITTING
---