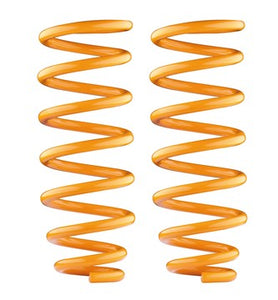 DESCRIPTION
All Ironman 4x4 coil springs are designed to provide a safe, comfortable ride while also providing additional ground clearance.

Ironman 4x4 coil springs are CNC cold wound and bar peeled for maximum reliability and consistency, every coil spring is 'shot-blasted' to ensure long life, preset to its solid height and load tested to avoid spring sag.

All springs are electro-static powder-coated for a gleaming appearance. Available in raised height and perfectly matched to Ironman 4x4 Shock Absorbers.


---
SPECIFICATIONS
Quantity Required: 1
Estimated Lift: 40mm
Additional Load: 0-250kg
Package Details: Pair
Material Diameter: 15.5mm
Free Height: 388mm
End I/D: 52/103
Spring Rate (N/mm): 40
Spring Rate (Ibf/in): 229

---